VIP International Traveller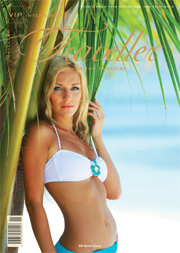 "The art of travel consists of seeking the new and finding oneself," said publicist Ernst Reinhardt. True words, for each journey to foreign countries is a small adventure in its own right, with the new impressions bringing fresh thoughts and insights to our own lives.
For over 10 years now VIP Traveller has dedicated itself to this wonderful passion for the finest places of this world. We present unique resorts, interesting and inspirational people, grant insights into the personal discoveries of our travels.
We are always searching and discover destinations for you both near and far - and breathtaking residences. Each journey reveals a treasure that needs to be recovered.
Each voyage becomes a piece in the mosaic of our memories of unforgettable moments. Immerse yourselves with us into mysterious worlds and fascinating places. Join us in heading for distant lands and cultures, allow us to guide your thoughts to new worlds and enjoy the beauty of travel.

Read the first 30 pages of the VIP magazine free here! You can order the complete magazine from us: info@bm-medien-verlag.de